REVIEWS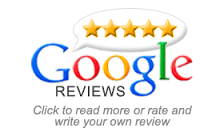 "100% Satisfied with work! Had hot water tank changed. Area cleaned up, courteous, and professional. Lived in Sh. Pk. since 1980's and have tried a few plumbers. Leger the very best!"
- Kevin
"We have called Leger for many different plumbing problems and he is always prompt, friendly, and professional. He was able to solve a difficult blockage problem that had other plumbers stumped. Leger is an extremely knowledgable plumber and we wouldn't consider calling anyone else. He's a pleasure to work with."
- Jill Davies-Shaw
"Leger has been taking care of our plumbing and furnace needs for over fifteen years. He has provided prompt, reliable, and competent service. We consider ourselves fortunate to have him to call upon when needed."
- Tony and Pat
Made the call at 8:20 AM, hot water before noon.
"Yesterday when I got home from work, I noticed that our hot water was - well - notso hotso. First I tried to fix it myself, re-lit the pilot light, flushed it out, re-lit the pilot light, checked after a couple of hours for hot water, no hot water, tried to re-light the pilot light, and there was no spark. That's when I decided the job was beyond me, and I would have to call a professional. Doing the research and figuring out who to call was the hardest part. Naturally, I checked Yelp first and read some reviews. Leger's Plumbing and Heating seemed like a good bet. I liked what Chani S. had to say about her experience with Leger, so I called him up. The man himself picked up the phone right away, no fiddling around with secondary parties having to find somebody to call me back, etc. So I first reached Leger at 8:20 this morning, and he was at my house and ready to work by 9:30. He had a brand new large capacity water heater installed before noon. Leger also upgraded the gas line to the water heater, adding a debris trap that was not there before, and gave me a lot of good information about vented and tankless options that we had been considering, the practicality of removing the chimney stack to add a few square feet, whether it would be worthwhile to add a powder room to the second floor, and venting options for the dryer (all of these projects did not pass the cost/benefit analysis). I mentioned offhand that condensation was forming on the cold water lines, and Leger did a little troubleshooting, noting that condensation like that results from water constantly flowing through the lines. A lot of water. Expensive. He suggested that I add food colouring to the toilet bowls, which I did, and they passed the test. Once the taps were all shut off and the water heater installed, Leger said, "Do you hear that? There's your water leak." It was the humidifier - a valve stuck in the open position was pouring water through the humidifier at a good cup to pint a minute. That's a lot of water wasted. I actually knew about the humidifier problem, and that a valve was stuck in the open position, but the quote we got to repair it was substantial enough to put off the repairs. Leger shut down the tap to the humidifier for us and gave me a quote for the repair, a fraction of the previous quote, and asked him to come back when he has some down time (not an urgent job). I knew that the job would be done right. We had a lot of fun talking about Mike Holmes. Leger is a fan. If Mike Holmes ever worked with Leger, I bet he would be a fan of Leger's Plumbing and Heating. I sure am."
- Donnette T.
"Leger was very quick installing my hot water heater and left the area cleaner than it was when he started. He seemed to welcome my presence while he worked and chatting with me and answering my questions didn't slow him down in the slightest. Price-wise, his wasn't the lowest quote, but that he was able to come that very day and provided a better quality product than the others made him the best choice."
- Chani S.
Plumbing review in Simcoe County
"Leger's Plumbing and Heating . Great reliable and reasonable rates . They have done both plumbing and heating for me in the past and didn't break the bank. One time he was tied up and he helped me do an easy fix myself and saved me the money so thank you sir for helping me out . i highly recommend this company"
- Roy
Plumbing review in Sherwood Park
"Leger was on time and professional. His rates are very affordable as well. He worked so well with a difficult area in my kitchen and now everything works perfect. He is a master plumber and I am so happy with his work. I definitely recommend him! He is now my plumber!"
"Has install two furnaces and AC unit in my home. He also replaced two hot water tanks in my home and takes care of plumbing problems in my rental unit. He also just replaced a furnace in my sons home."
- Waben
"Very fast to complete the job and very efficient. Phoned Leger's and he was here within 1/2 hour. Advised me what was required and order the part. Came back the next morning and installed the part."
- Marleen Young
Man...this guy's good! Had him doing a number of things in my house. Each time I called him, he was there in no time at all. He knows his stuff and he doesn't doddle. Would recommend him for all your plumbing and furnace/water tank needs
- By Lorraine D
"Leger's Plumbing and Heating . Great reliable and reasonable rates . They have done both plumbing and heating for me in the past and didn't break the bank. One time he was tied up and he helped me do an easy fix myself and saved me the money so thank you sir for helping me out . i highly recommend this company"
- By Roy N
"Very reliable, efficient and courteous. Leger has installed furnace and hot water tank at reasonable cost. Also has done repairs and directed us on how to save costs."
- Annette
"Leger did a excellent job on the installation of a Furnace and AC at my home. A Plumbing, Heating and Air Conditioning professional no doubt."
- Keith Le Clercq
"I would definitely recommend Leger to anyone. We had a tricky kitchen sink install that required a fair amount of countertop cutting. Leger's results were amazing and perfect. He went beyond what was required of him to get the job done well. I was more then happy with the results of his work at a reasonable price. I plan on having Leger work for us again in the future!"
- Max and Andrea